Cluster Box Units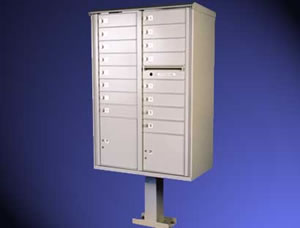 U.S. Postal Service approved outdoor centralized mail delivery system is constructed of all aluminum, stainless steel and corrosion resistant materials. Concealed hinges on front-loading master doors provide high security plus easy access for mail delivery person.
Due to numerous applications, only a few typical details are shown here. Please call us for specific details or design requirements to meet your project needs. Also Contact Us for a reputable installer or visit our showroom.
Features:
Doors are designed to stay open while mail is distributed with a quick release for closing.
Shelves are secured with stainless steel rivets for strength and stability.
All patron doors are equipped with weather resistant 5-pin cylinder cam locks (1500 changes) and 3 keys.
Parcel boxes have U.S. Postal Service approved 306P captive locks.
Standard door identification is a 1" x 1" aluminum tab with black numbers.
Tab recesses into an indentation in the surface of the door for a smooth attractive finish.
Specifications
Doors: Thicker doors constructed of extruded aluminum
Master Door Frame: Precision fit for sturdier construction
Shelves: Riveted with stainless steel rivets to offer added protection
Concealed Hinges: For longer life, improved performance and appearance
Pedestal: Extruded aluminum to withstand the toughest impact.
Interior Nest: Thicker material .080 aluminum to strengthen overall unit
Door ID: An aluminum tab with black number: 1¼" H x 1¼ W
Options:
Standard aluminum numbers from 1 through 999 for consecutive numbering of multiple units
Permanent identification engraved into front surface of patron doors
Extruded aluminum pedestal
New Security Features for Type I:
8 point master door locking system
Stainless steel reinforced, ¼" thick aluminum collection door
¼" thick aluminum parcel doors with stainless steel hinges
Patron doors with enclosed ends at hinge point with a 3/16" hinge rod
Reinforced top cover
Stronger load door holding mechanisms
Load doors hinged with stainless steel continuous hinges with a ¼" rod
Hook cams on 306P lock
Hook cams on patron doors
Pry resistant parcel openings
Heavy gauge (11GA. 304 Series Stainless Steel) rain cover on collection door