Horizontal Apartment Mailboxes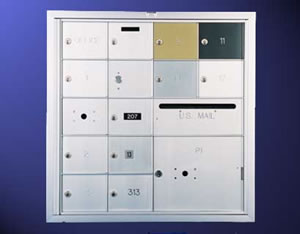 Horizontal Apartment Mailbox's are constructed of all aluminum extrusion and materials. Standard 900 series horizontal mailboxes are available in "A" size compartments, 5" H x 6" W and configured in modules 3, 4, or 5 boxes wide and 5, 6, or 7 boxes high. Each extruded aluminum door swings on a continuous hinge and is equipped with a 5-pin cylinder cam lock with 3 keys (1500 changes).
Due to numerous applications, only a few typical details are shown here. Please call us for specific details or design requirements to meet your project needs. Also Contact Us for a reputable installer or visit our showroom.
900 Series Features:
Doors include permanent ¾" H engraved identification for a neat, uncluttered appearance.
Larger size boxes can be integrated into all modules for volume incoming mail as well as outgoing mail through a mail slot.
Package delivery can be accommodated with the addition of parcel boxes with a dual locking system.
All modules have standard ¾" integral trim for stability, easy installation and finished appearance when recessed into a wall opening.
Specifications
Front Loading: Master door swings on a continuous hinge and features a top to bottom locking bar for security. One compartment is required for postal access and cannot be used for mail delivery but with the addition of a mail slot in the door it becomes an outgoing letter box. Postal access door is prepped to accept postal lock provided and installed by local postal authority.
Rear Loading: All compartments are usable for incoming mail. Lift-off or hinged rear covers are available.
Locks: 3 keys and 1500 key changes. 5- pin cam lock or with dust cover lock.
Combination spring latch lock must be approved by local postmaster for use in U.S. Postal Service Installation
High security all point locking system on ¼" door uses five pin cam lock.
Doors: U.S. Postal Service approved shall be fabricated from high strength aluminum with a minimum thickness of ?", max. of ¼" (must be specified), and swing on concealed hinges. The module is built with integral trim; no need for snap-on trim. This allows for stronger box and front loading main door to be precision fitted to preclude prying. Extruded aluminum (available in different sizes)
Hinged Doors: continuous to deter prying
Door Identification: 900 Series may have ¾" high number or letter permanently engraved in the face of door or aluminum or plastic tab. Numbering to be vertical, in sequence, starting from top to bottom. Numbering to be furnished to mailbox manufacturer by architect or owner
Option: Instead of engraving a 1¼" x 1¼" black lettered aluminum numbered tab for indent or a clear plastic windows
Master Frame: Precision fitted with integral trim to prevent sagging
Shelves: Riveted for added protection
Available Options
Snap on trim instead of integral
Black lettering
Spring latch lock
Windows/Card holders
High security lock system
Combination lock (private use)
Special custom sizes available
Special custom sizes available
Mail Slots
Keyed alike (private use)
Parcel lockers
1/4" high security aluminum doors
Rear cover for rear load
Doors prepared for keyed-in cylinders
Private Use Options- Spring latch locks, Combination spring latch locks. Access doors keyed alike.